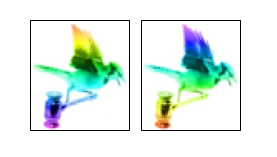 Trademark description as filed in Canadian Trademark Application No. 2169305 for Holographic Blue Jay Design: The trademark consists of a hologram of a pixelated blue jay holding a gavel as depicted in the visual representation. The visual representation depicts different views of the same trademark. The trademark has a holographic rainbow colour effect and the applicant claims the colours red, orange, yellow, green, blue, indigo, violet as a feature of the trademark.
On June 17, 2019, the Canadian Trademarks Office opened its doors to accepting applications for a broader range of "non-traditional" trademarks such as those consisting in whole or in part of a hologram. Since then, only 28 applications were filed (before February 28, 2022) designating a hologram as the type of trademark, and surprisingly, none of which were filed with the help of a Trademark Agent.
Shortcomings of the Previously Filed Applications
Perhaps understandably then, a brief review of those applications reveal that they will all likely be objected-to for, among other things, failing to:
"include a visual representation in the form of one or more still images, sufficient in number and clarity, to demonstrate the holographic effect in its entirety"; or
"include a clear and concise description of the visual effect when the hologram is viewed from different angles."
These are two requirements unique to trademark applications for holograms that were published in a Practice Notice by the Canadian Trademarks Office. Notably, the Practice Notice provided the following example of an acceptable description of a hologram trademark: "The trademark consists of a hologram of a dove in flight. The visual representation included in the application depicts the full range of the holographic effect."
Unfortunately, instead of describing the holographic effect of their trademark, many applicants merely provided a title, a business description or even a plea to the examiner to approve their application.
1st TM Application for a Hologram filed by a Canadian Trademark Agent
I decided to be the first Trademark Agent to file a trademark application for a hologram in Canada after being inspired in part by the following events in the intellectual property law space that took place within the last year:
Dr. Stephen Thaler obtained the first patent in South Africa that designates an A.I. system as the sole inventor instead of a human system without designating a human inventor, but has met resistance in other jurisdictions such as the EU, the U.S. and Canada.
Nike filed a number of trademark applications in Canada and the U.S. in association with "virtual goods".
Mr. Ankit Sahni obtained the first copyright registration in Canada that lists an A.I. Painting App as a co-author.
As a registered Trademark Agent in Canada, I reviewed the relevant regulations and guidelines from the Trademarks Office to best prepare an application that would be accepted by the Trademarks Office. Once the application is examined and approved, it could serve as a verified model of a trademark application for a hologram.
The Trademarks Office defines a hologram as "a three-dimensional picture made by laser light reflected onto a photographic substance without the use of a camera." In my application, the "hologram" is a relatively simple design of a pixelated bird with a holographic rainbow effect like the ones found on Canadian bank notes and certain credit cards that change colour when viewed at different angles. Admittedly, my hologram is not as impressive as the larger scale holograms displayed by projectors or viewed with special glasses, but my trademark application can serve as a building block for other applicants and Trademark Agents.
Here is a link to the details of the application on the Canadian Trademarks Database: Holographic Blue Jay Design
Some alternative hologram designs that I considered included:
a bird that would have its wings pointed up when viewed from one angle, but pointed down when viewed from another angle;
a bird holding a gavel that would only be visible when viewed at certain angles; and
a fully 3D bird model that could be viewed at all angles like a real-life object (and possibly flapping its wings).
Nevertheless, I found that the holographic rainbow effect was the key to turning a traditional design trademark into a minimum viable hologram trademark. In contrast, if my hologram included any movement, I may have been required to include a moving image (animation) clip in my application to demonstrate the holographic effect. In turn, this may have required me to either hire a graphic designer to render the image or buy a specialized holographic photo frame (and associated software).
Next Step and Takeaways
Time will tell if the Canadian Trademarks Office will approve my application and accept the two images I provided as being sufficient to demonstrate the holographic rainbow effect. Naturally, a professional graphic designer could have created a more realistic rendering of my hologram than what I created with some basic coding and Photoshop skills. On the other hand, maybe even providing only one image would be deemed acceptable as long as a clear description of the holographic effect is provided.
As for how my hologram trademark could actually be used, in its simplest form, it would likely be a sticker embedded or placed on a business card, letterhead, invoice, or envelope. With the growing trend of virtual/augmented reality, blockchain technology and pixel art, the hologram trademark could also be used as a vehicle to explore other ideas in the virtual/augmented world or the non-fungible token (NFT) space.
It is conceivable that when augmented reality headsets become more prevalent that hologram trademarks will also become more prevalent, such as in the form of a 3-D icon in an app store or loading screen. Holographic projectors might also become small enough to be embedded into other devices or novelty items.
The value of a hologram trademark in the nearer future, however, may come from distinguishing your product or brand in an industry where others are using traditional logos. See for example, EU Trademark Filing No. 017579491 for a hologram trademark registered by Zwilling, a German knife-maker.
It may also become a more common way to signal consumers of your company's involved with virtual or augmented reality, such as by putting a holographic sticker on packages for augmented reality headsets. In fact, Google has already registered a hologram trademark in both the U.S. and the European Union in association with virtual/augmented reality headsets and accessories, among other electronic devices (See EU Trademark Filing No. 017993401 or Search for U.S. Trademark Registration No. 5924369). Notably, as evidence of use of its hologram trademark in the U.S., Google provided a picture of a package for one of their smartphones with a holographic "G" sticker on it.
Accordingly, businesses will want to keep an eye on how the hologram and virtual/augmented reality space continues to develop to better stand out amongst their competitors, and to better protect their brand, whether in the "real world" or in the "metaverse".
Contact and Disclaimer
Our firm has registered Trademark Agents and experienced lawyers who can promptly assist you with the preparation and filing of your trademark application, and prevent you from making mistakes that may not be correctable after your application has already been filed.
Please contact us by email at trademarks@kmblaw.com to begin the process of registering your trademark or to schedule a free 20-minute general consultation.
This article is provided for general information purposes and should not be considered a legal opinion. Clients are advised to obtain legal advice on their specific situations.
If you have questions, please reach out

3115 Harvester Rd., Suite 400
​Burlington, ON L7N 3N8
85 Enterprise Blvd., Suite 400
Markham, ON L6G 0B5